Con iOS 8.1.2 los desarrolladores actualizan sus más famosos tweaks para iPhone
Recientemente Apple actualizo la nueva versión de su sistema operativo móvil para iPhone y iPad, iOS 8.1.2. Junto con esta actualización también llego una nueva versión del Jailbreak de TaiG que permite a los usuarios la posibilidad de seguir instalando tweaks en sus dispositivos móviles de la firma californiana. A continuación veremos un completo listado de los tweak que son compatibles con iPhone y el nuevo iOS 8.1.2.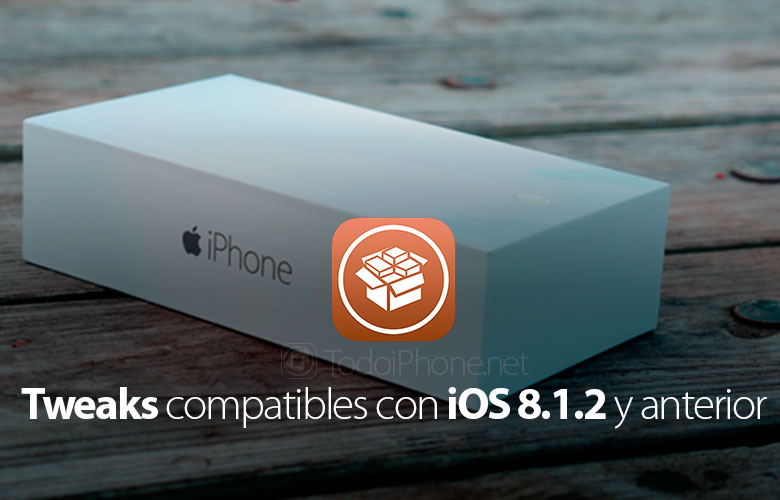 Tweaks para iPhone compatibles con iOS 8.1.2 y otras versiones de iOS 8
Como suele suceder, con la nuevas actualizaciones que lanza Apple de su sistema operativo, a pesar de estar disponible el Jailbreak, los tweaks favoritos de Cydia pueden dejar de funcionar de forma parcial o completamente. Por este motivo, los desarrolladores también tienen que trabajar en el soporte y actualización de sus tweaks más famosos.
Por este motivo, ahora os dejamos con los tweaks que actualmente son compatibles con los iPhone que han sido actualizados a iOS 8.1.2 o que tienen anteriores versiones de iOS 8 y que tienen el Jailbreak Untethered hecho.
360
20 Second Lockscreen
2×2 Folder Icons
360 Vault
3G Unrestrictor 5 (iOS 8 & 7)
7Shaders
A Best VoIP APP – Tinkle
aBar
AboutUDID
Acapella
AccountChanger TS
Actif
Action Menu
Action Menu Plus Pack
ActiSound
Activate Command
Activate Link
Activator
AdaptiveKeyboard
AdBlocker 2 (iOS 8)
AdvancedSettings8
Aeternum
AIPLAY
AirBlue Sharing
airMonitor
AirPlay Enabler
akAuto3G
AlarmVolume
AlbumArtCenter
AlipayBioEnabler
Alkaline
All Mail Actions
AllBoardPass
AllDrop
Almpoum
Aloud
AlphaBadge
AltKeyboard 2 (iOS 7)
AlwaysFirstSwipe
AlwaysGreen
AndroidLock XT
Animate iOS 8
AnimateAll
AnimateAll HD
AnyAttach
AnyDrop 2
Anywhere!
Apex 2 (iOS 7 & 8)
App Language Switcher
App Stat
AppBackup
AppColorClose
Appellancy
AppelLocker
AppETA
AppHeads
AppHide
AppInfo
Apple File Conduit «2»
AppList
Applocker
Appro
Archer
Aria
Arise
AskToCall
AskToSend
Aslock
Asos
Assistive+
Asuo
Attachments+ for Mail
Audio Recorder
AudioExplorer
AudioOut
AudioRecorder
augmented
Australian BOM Siri Weather
Australian BOM Weather+
Auto VPN
AutoDora
AutoLSMusicControls
Automa
AutoOK7
AutoTouch for iOS 8
AvatarSync
Awake Speech
BackupAZ
BackupIt
Badge Customizer
Badgomizer
BarMagnet
Barrel
Bars
Battery Percentage Enabler
Battery Percentage for iPod
BatteryFullAlert
BatteryLife
BatteryPeek
BatteryStatusBar
BattSaver for iOS 7 & 8
BBMOpenIN
BetrFoldr
BetterCCSliders
betterFiveColumnHomescreen
BetterFolders
BetterLS
BetterNC7
BetterNF
BetterPasscodeKeypad
BetterPowerDown
BetterWiFi7 (iOS 7 & iOS 8)
BioLockdown
BioProtect
Bloard
BlueBoard
Bluepicker
bluePill
Bluetooth Companion
Blur Remover
BlurBar
BlurPaper
BlurryBadges
BlurryBar
BlurryContrast
BlurSlide
Bolt
BootSound
BootUp
Boover
BounceNotify8
Boxy 2
Brevity
Brevity 2 (iOS 8)
Bridge
Brightness Activator Pro 2 (iOS8)
Browser Changer
BTC Mouse & Trackpad
BTstack
Bulletin
Burst mode
BurstGIF
ByPass
BytaFont 2
Calendar for Lockscreen
Calendar for NC
Calendar Pro for NotificationCenter
Call on GV 8 (iOS 8)
CallBar (iOS 7 & 8)
CallConnect
CallController
CallerID Greece
CallLockScreen
CallShare
CallShortcut
CamBlur7
CamRotate
CamText
CamToggleBlur
CamVolZoom
CamZoomNoReset
Canopy for iOS 7
CarPlay iOS
CarrierNM
CC Deseparator
CCBackground
CCBringUpSwitcher
CCControls
CCDock
CCfix 8
CCHide
CCLiveBrightness
CCMeters
CCNowPlaying
CCQuick Pro for iOS8
CCSettings for iOS 8
CCSliders
CellularUsageOrder
Centered
CenterStage
Centrum
ChargingHelper for iOS 8
ChargingHelperPlus for iOS 8
Check
Chinese Calendar Pro for Notification Center
Chroma
Chrome Downloader+
Circlet
classdump-dyld
Classic iTunes
ClassicBadges
ClassicDock
ClassicLabels for iOS 7.1.x
ClassicLockScreen
ClearFolders
ClearLockNotification
ClearOnOpen
CleverPin
Clex2 (iOS 8)
Cloaky
Clone Alarm
CloseAll
Color Keyboard for iOS 7
ColorBadges
Colorbar
ColorFlow
ColorFont
ColorFont2
ColorfulKBD Pro
Colorize
ColorReachability
ColorY0urBoard8 (iOS 8 & 7)
Complete Me Not
Confirm2Proceed
Contacts Photo Sync
Controllers For All
Convergance
ConvoPics
Coono
Copic
Cou
CrashReporter
CrazyCall
CroppingScreen
CSwitcher
Curiosa
Curtains
CustomClock
CustomCover
CustomFolderIcons
customLS
CustomMessages
CyDelete8 (iOS 7 and 8)
Cydia Installer
Cydia Substrate
Cylay
Cylinder
DailyPaper
DarkFolders7
DarkPhotos
DataMeter
DateCarrier
DateText
DathUI (iOS 8)
Deafen
DedupeVariants
Delete Contact
Delete Word
Delete World
DetailedBatteryUsage
Dim
DimInCall
Dimmer
Disable Frequently Visited Sites
Disable Parallax Effect
DisableCoverFlow7
DisableLockCamera
DisableVoiceControl 8
Disk Pie
Display Recorder
DisturbPlease
DNSCrypt
DockShift
donTouch
DotsDotsDots
DotsGoDown
Dotter
DoubleCheck
Dropped
DuplexClock
DynamicText
EASimulateTower
EASimulateTowerLight
Eclipse 2 (iOS 8)
Edit Alarms
Edit Clocks
Effects+
EqualizerEverywhere
Everest
Exchange Unlock iOS7
ExchangePolicyCleaner
exKey
f.lux
FaceBOpenIN
FaceDetectionDuringVideo
FaceOff 7
Faces
Fake Email
Fake GPS Lite
Fake GPS Pro
FakeCarrier
FakeClockUp
FakeLocation
FakeMyConnectionType
FakeTimeWarner (FTW)
Fascy
Fast Forward
FastForward
FB Unlimited Chat Heads
FBCopyTXT
FBNoNeedMessenger
Filza File Manager
Firewall iP7
Five Icon Dock
Five-Column Springboard
Flat Notes
Flex 2
FlipControlCenter
flipflop
Flipswitch
Flurry
FMFLive
FMFNotifier
Folder Customizer
Folder6Plus
FolderCloser
FolderEnhancer (iOS 7/8)
ForceGoodFit
ForceReach
Forecast
FTLSaver
FullCameraLog
FullFolder
FullForce
FullForce for Phone
Fully Masked Passwords
Gearsystem
Gestr
GhostPrefs
GIFPaper
GIFViewer
GlowBadge
GlowBoard
GlowDock
Googiri
GPSCheat
Grabby
Grabless
Gridswitcher
Grooveshark
GroovyLock
GroupSend
GuestMode
GuizmoDNS
GuizmOVPN
HandsFree 2 (iOS 8)
handyDialer
HandyKey
handyPhone
HapticPro
hid-support
Hidden Pro
HiddenCallLog7 (iOS 7 & 8)
HiddenSettings7
HiddenWallpapers
Hide Labels
Hide Newsstand iOS 7.1.x
HideCameraGrabber
HideHomeTime
HideJB
HideLSMusicControls
HideMe8 (iOS 8)
HideMe8 Lite
Hold2Speak
HomeScreen Settings (iOS8 & 7)
HomescreenDesigner
HUD Customizer
HUDDismiss
HUDSpeed
HueHueHue
I See Stars
iAppLock
IB Graphics Selector
iBatteryInfo
iBatteryInfoPro
iBlacklist
iBlank for iOS 7 and iOS8
iBooks – Two Hands
iBox for iOS8
iCaughtU
iCaughtU Pro
iCleaner
iCleaner Pro
Icon Finder
Icon Renamer
Icon Tool
iconNotifier
Iconoclasm
IconOmatic
IconSupport
iDetector
IfFound
IfFound Lite
IfFound² (iOS 8)
iFile
iGotYa
iKeyMonitor keylogger for iPad/iPhone/iPod
iKeywi 2
ImageExplorer
iMeasure
iMessageSpamReporter
IMN for iOS 8
Impulse
Infiniboard
Infinidock
Infinite Tweet 2
InfinityTask
InstaCopyTXT
InstaEnhancer
Instahancer
InstaLauncher
Instanote
InstaOpenIN
InstaRealDate
IntelliID
IntelliScreenX 8
InternalPhotos
InTube 2 (iOS 8)
iOverclock 2
iPad Battery
ipEQ for iPhone
iPicMyContacts
iProtect
Iron Man Repulsor
iScheduler
iTouchSecure for iOS 8
iTransmission 4
iTunes Radio Unlimited
iUnlock
iWep PRO 8
iWidgets
iWidgetTapper
Jellylock7
JODebox
KeenCenter
KeepSecret
Keyboard
KeyShortcut
Keywi 2
KikCameraSender
KillBackground8 (iOS 7 & 8)
KuaiDial for iOS7&8
LabelShift
LastApp
libcrashreport
libfinder
libhide
libLocation
libpush
libstatusbar
libsymbolicate
LinkOpener
ListeningLauncher
LittleBrother
Live Effects Enabler
LivelyIcons
LiveWallpaper
LiveWeatherIcon
LocationFaker8 (iOS 8)
LocationHolic
LocationHolic(GoogleMaps)
Lock Screen Tool
Lockdown Pro iOS 8+
LockGlyph
LockHTML3
Lockify Pro
LockKeyboard
LockLaunch7
LockMemos
LockMemosPlus
LockPages
Lockscreen Launcher
LockSpeed
LockStatusClock
LongerAutoLock
LSWeather
Lumos
Lyricsxplorer
MagicBadges
Mail Labeler
Mail Labeler Lite
Mail More Photos
MapsOpener
MarkAsRead7
MaskMuter
Maximization
Mesalation
MesaVibrate
MessagePopper
Messages Customiser
Messages+
MessengerReturn
Meter
miniCode
MiniPlayer
MobileTSS
More Icons
MoreInfo
MorePredict
MouseSupport
MSGSplus
MTerminal
MultiIconMover
MultiIconMover+
MultiLS
MultiSend
MusicGestures
MuteIcon
MxTube
My3G
MyBias
MyPhoneDefault
MyReachability
MyStatusBar
MyWi 8
Möbius
NativeZoom
Navigate from Maps
NC Customizer
NC Date Customizer
NCFold
NCMemo (iOS 8)
NCObey
NCPad
NCSIngleTapClear
NCStickyBar
Nested Folders (iOS 8)
NetworkList
NevaGonnaBuy
NewTabKeyboard
NewTabSearch
NewTerm
NicoVideoEnhancer 8
Nightmode
Nightmode8 (iOS 8)
Nitrous
No Alerts Private Browsing
No Carrier Name
No Dock Labels
No Glint
No LockScreen Blur
No Passcode LockOut
No Percent Sign
No Tint&Blur Lockscreen
No Yahoo!
No Yahoo! & TWC
NoAdStoreOpen
NoAlarmVibrate
NoAnnoyance
NoAppSettings
NoAudioRecorder
NoBarScreen
NoBlur
NoCameraGrabber
NoCC
NoCCMediaControls8
NoCoverFlow7
NoDelay64
NoDictation
NoFullscreenGrabbers
NoGrayContrast
NoIconDot 8
NoIconLabels
NoLiveClock
NoLockBounce
NoLockScreenDate for iOS8
NoLongPressKeys
NoLowPowerAlert
NoMotion
Non-Stop Music 8 (iOS 8)
NoNoNotifications7
noNoSimAlert 8
NoOrientationStatus
NoPageDots7
NoSlideTo
NoSlowAnimations
NoSpot iOS 7
NoStatusBar
NoSTUArrow
NoSwitcherLabels
Notate
NoteCreator
Notification Privacy
Notifier+
NotifyWifi 7
NoTouchCancelReply
NoTracking+
NoUninstall
NoUpdateCircles
NoUpdateHistory
NoUpperCaseTable
NoVibratedWakeup
NoVoiceMail
NoWallpaperZoomAnimation
NowListening
NowPlayingStatusBar for iOS 7
OneSimCard Direct
OneThumb
OnlyOneNotification
Open In App For Photos
Open in ProTube 2
Opener
OpenNotifier
OpenOnSearch
OpenOther for iOS 8
OpenSSH
OpenSSL
OrangeMeNot
OSLite8
Overachiever
Overboard
OwnSpy
PadClock
PandoraSkips
PaperBoard
Parental Controls For iOS
PassTime
Password Events
PasswordPilot
PdaNet
PDF Printer
Pebble Profiles
PebbleSiri
Persian Keyboard iOS8
Phantom for Snapchat
Photo Info
PhotoAlbums+ for iOS 8
PhotoTorch
Pinnacle
PkgBackup
Platinum
PM, really?
Polus
Poof
Portrait Lock
Power Tap
PowerApp
PowerBanners
PowerDown
PowerSoundDisabler
PPSSPP
Predix
PrefDelete
PreferenceLoader
PreferenceTag2 (iOS 8)
PreThree
Prettier Banners
Printify
Priority Hub
Private Space
PrivateSMS7 (iOS 7 & 8)
Programmable SMS (iOS 8)
Protean
Protube
Protube HD
Pull to Dismiss
PullToRespring
Push for Gmail
PushPrivacy
PwnTunes for iOS 8
Pyx
QQ
QuickActivator
QuickCall
QuickContacts
QuickDo
QuickFolders
QuickGestures (iOS 8)
quicklock46
QuickMusic 2 (iOS 8)
QuickPass
RaiseToCall2 (iOS 7)
RASBerry
Reachability7
ReachAll
RecentFacebook
Record 'n' Torch
RecordMyScreen (Tweak)
Reminders for Lockscreen
Remote Messages (iOS 8)
Remove Badges
ReplaceBlurs
RePower
Reroute
ResetAllKiller
RetroArch
ReturnToCalm
Revelation
RightX
RingerSwitchTool
Ringing Pocket
Rise
RocketBootstrap
Roomy
RoundScreenCorners
Safari Downloader+
Safari Enhancer
Safari Upload Enabler
SafariAlwaysPrivate
SafariRefresh
SafariTabCount
Safe Alarm
Safe Alarm PRO
SameGrabbers
SameStatus
SaveGram
SB OpaqueClarity
SBDocument
SBFlip
SBInfoGrabber iOS 7
SBMusic
SBPhoto
SBPhotoDial
SBPowerAlert
SBProfile
SBProfiles
SBSettings
ScramblePass
ScreenPainter
ScreenShotClip
ScreenshotPlus
scrobbled
ScrubRadio
Secretary
Sectional
SelectiveReading
SendDelay
Sesame
SetBack
ShadowBoard
Shazam On Start
Shou
Show My Touch
ShowCase
Shrink
Shy Page Dots
Sicarius
Signal 2
SilencePlease
SimplePasscodeButtons
Simpler Photos
Simplock
SiriNoConfirm
SixBar
SleekCode
SleekPhone
SleepyAlarm
Sleipnizer for Safari
Slices
Slide2Kill8 Lite
Slide2Kill8 Pro
slideback
SlideCut
SlideForUsage
Slo-mo Mod
Small4MMS
SmartBatteryPercentage
SmartTap
Smartwatch+
SMS on GV 8 (iOS 8)
SMS Stats 2
SMSNinja
SMSPrefix
Snapchat Log
SnapMoreText
Snapper
Snes9x EX+
SnooScreens
Snoverlay
Social Duplicator 2 (iOS 8)
Social Enhancer
Space+
Speak Notification
Spectral
Speed Intensifier
SpeedChanger
SpeedMaster
Speedy Homey
Spin
SpinSettings
Spoof CallerID and Voice changer
SpotLock
springPage
Springtomize 3 (iOS 7 & 8)
Sprint Timer
SPTouch
SSH Connect
StaticLock
StaticLock
StatisticsExplorer
StatusBarTimer
StatusForecast
StatusHUD 2
StatusModifier
StatusPeek
StatusTime+
Stealth Cam
Stepper 2 (iOS 8)
Sticky
Still Capture Enabler 2
StopAlarm iOS 8
StopCCinApp
StopPlayin8′
Substrate Safe Mode
SubtleLock (iOS 7)
Super Recorder
Support Unsupported Accessories 8
SwipeExpander
SwipeSelection
SwipeSelection Pro
SwipeShiftCaret
SwitchAutofocus
SYS Passwd
syslogd to /var/log/syslog
Tab+
TabLess
Tage
TapTapFolder
TapTodaysCalendar
TapToUnlock7
TetherMe for iOS8+
TetherStatus
TGAnyFiles
TimePasscode
TimePasscode Pro
TinyBar
Tinygrid+
ToneEnabler
TouchBar
Transference
TransparentCameraBar
TransparentDock
TransparentVolume8
True iRadio
TryGpsOut5
tsProtector 8
TVLocker Pro
TwitkaFly (iOS 7)
TypeAndTalk
TypeRead
TypeStatus
TypingPrivacy
UAUnbox
UIColors
UIKit Tools
UIRotation8 (iOS 8)
unBold
UnderFace
Uniformity
Uninstall Application Size
Universal Video Downloader
Unlimited Itunes Radio Skips 8
unlimitedphotos
unlockr
UnlockSound7
Unrestricted Folders Naming
UntetheredHeySiri
Untrusted Hosts Blocker
UpNext
Upscale
User Agent Changer
vColor
Vertex
VerticalVideoSyndrome
Vestigo
vHome
Video Zoom Mod
VideoExplorer
VideoPane
VineDownloader
VirtualHome 8 (iOS 8)
VlifePapers-iPhone
VoiceChange
VoiceMailRemoveriOS7
Volume Amplifier
Volume Mixer
VolumeNotifier
VolumeStatus 2
WAEnhancer
WAFixCrash
Wake Info 2
Wake With Weather
WakeTrace
WallCycler
WallpaperPlus
WAOpenIN
Watchboard
Watusi
WeatherBoard (iOS 8 & 7)
WeatherFix8
WeChat Emotions Assistant
WeeLoader
WhatsApp Blacklist
WhatsApp for IMN
WhatsApp LSeen TimeStamp
WhatsApp+
Whatspad
WhoIsCalling
WI Bug Fixes
WiCarrier
WiFi
WiFi Booster
WiFi Explorer
Wifi Passwords
WiFried (AWDL Disable)
Wink
WinterBoard
Wipi
XBMC
XModGames
yBox
Youtube Essentials
YouTube To Protube
Youtubed
YouTuber, Download & Convert
YoutubeToMp3
Zeppelin
Como es de esperar, algunos de estos tweaks son gratis y otros tantos son de pago. Para poder instalarlos es necesario tener un iPhone, iPad y iPod touch con Jailbreak, si aún no lo has hecho te recomendamos que eches un vistazo a nuestra guía completa para hacer el Jailbreak Untethered del iPhone con iOS 8.1.2 y TaiG.
Desde luego, si conocéis o usáis algún otro tweak que sea compatible con iOS 8.1.2 y no se encuentra en la lista, os invitamos a decírnoslo a través de los comentarios.